Different light sources cause Vaseline and Milk Glass to display uncanny qualities.
Vaseline Glass Turns Ghostly Green
Under a black light that is. What exactly is Vaseline glass and why is it called such?
Vaseline glass, as it's termed today, was coined the name because some of the glass color resembled petroleum jelly. Certain companies who made the glass used Uranium to color the glass. The technique of using uranium stopped after World War II when it became harder to get.
Vaseline glass becomes florescent when held under a black light like shown in the picture below taken in Old Nottoway Antiques. The green in the glass is created with special chemicals just as those used in neon lights.
These beautiful green sherbet glasses, a Diana-Green pattern by Federal Glass, are for sale in the store and online in our glassware category. These glasses are more common because they were usually put away and not used as often as the matching plates which were often broken, making them more rare.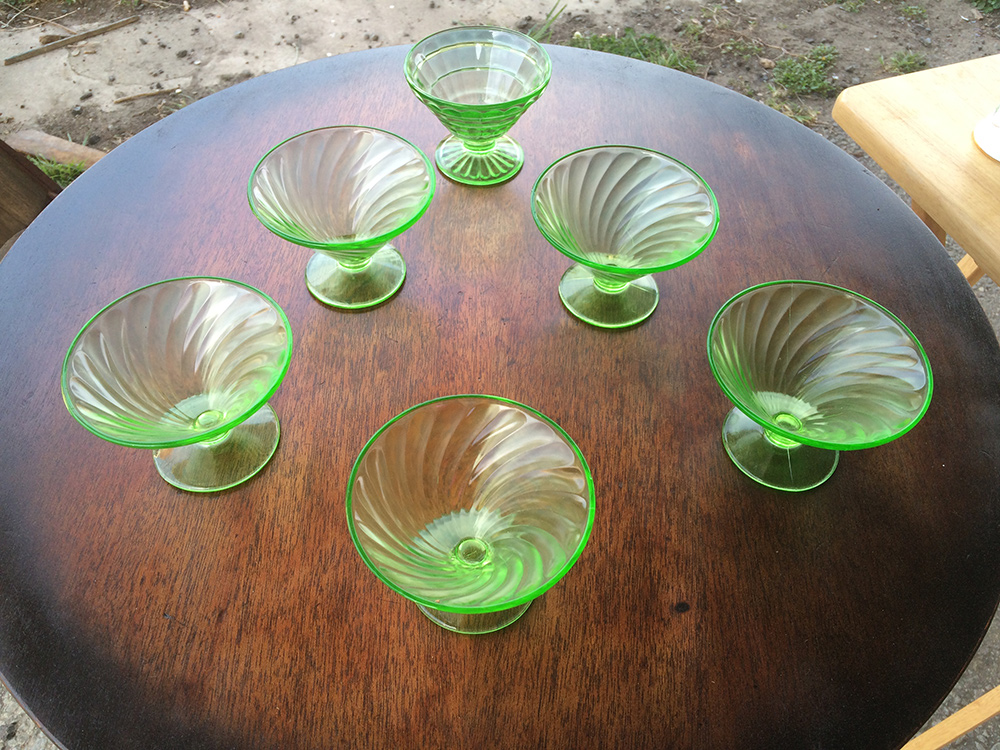 Fire in Milk Glass
Milk glass is usually a silky white and other colors and opaque looking like milk in a bottle. Hence its name. How do you test for true Milk glass? The best test is to hold it up to natural light as shown in the picture below. A ring fire is displayed around the edges which is caused by the iridized salts added into the milk glass formula. The outer edges of the plate in the picture below light up like fire, hence the nickname, fire glass.
The green Vaseline glass and hand painted plates are just some glassware items found in Old Nottoway Antiques.