A painting stored in a mysterious place makes its way back to its origins and the spirit of the man within perseveres…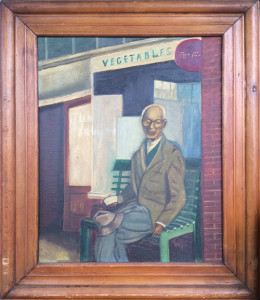 Several years ago, a civil war reenactor I was acquainted with came in to our store to sell two civil war prints and a unique painting. I was immediately intrigued by the latter because it was local and just a cool piece of folk art. I stared at it and realized it was signed R. Carson and dated 1952. The name immediately got my attention because Bob and Ruth Carson once owned our store and the property around it between 1931-1981. They eventually sold it at auction.
Even more intrigued, I started looking at the painting in more detail. The rendering includes an older, well-dressed gentleman sitting on a bench in front of a brick building. I noticed the vertical lines of the window frame in the painting, and suddenly it struck me that it was my store!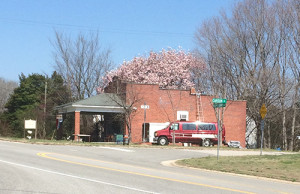 I turned to the seller sharply, eyes wide open. "Where did you get this?"
He stepped back, hearing the intensity in my voice, probably thinking that I was accusing him of stealing it.
"I'm sorry," I said softening my tone. "I didn't mean to react like that, but this is a painting of my store."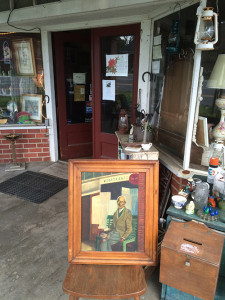 He was just as amazed and bewildered as I. He told me that he got the items out of an old storage room in the area, and had no idea it was my store in the painting. Nevertheless, I bought everything the man had.
After he left, I did more research. I thought at first that R. Carson referred to the Robert (Bob) Carson, who ran the store as a general store for many years. However, I did some further investigation. I crossed the street and talked to Emma Crane, who has since passed on and once owned an antique store here in Nottoway for many years. She explained that Bob Carson never painted and that it was his wife, Ruth, who was the painter.
From locals who have visited the shop since I learned that the man in the painting was known as Tim Drinkwater. I researched his name in the census records. In 1950 he was 82 years old, making him 84 years old in the painting. Well known in the area, he was born in the county in 1868 and spent his career in the city as a butler in a hotel. He returned to Nottoway upon his retirement. As a result, he was always nicely dressed (just as he appears in the painting), and had a saying everyone knew when he opened a door and entered, "Wellllll, people!" He must have meant something to Ruth Carson for her to take the time to paint him.
Recently, I learned that Tim Drinkwater's head stone is on private property near Crystal Lake, his headstone overturned.
The painting is not for sale and will remain in our store as long as the building is in our possession. Eventually, we plan to donate it to the Nottoway Historical Association. It is the oldest known rendition of our building in existence, and the only piece of Ruth Carson's work known in the county.
It's as if Tim Drinkwater came home.